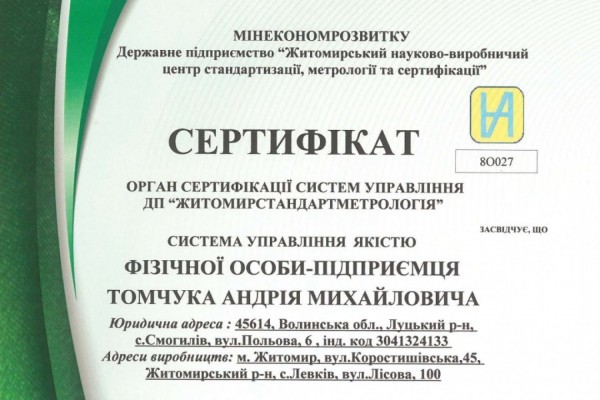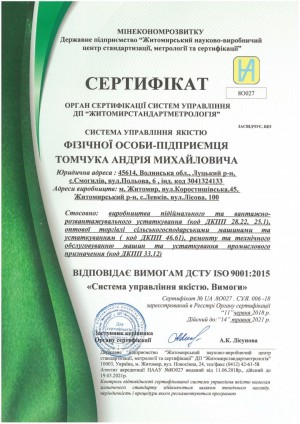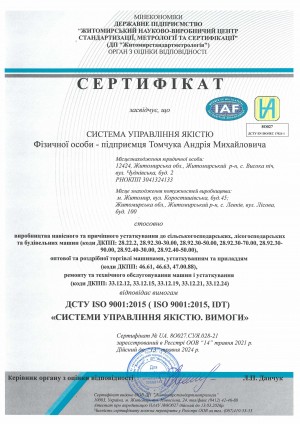 Стаття
2018-06-11
We are glad to inform you that Pack-Trade company received Quality Management System Certificate. This certificate is one of the most objective evidence of company reliability. This document certifies that quality management system for the production of lifting and handling machinery, wholesale of agricultural machinery and equipment, repair and maintenance of machinery and equipment for industrial purposes meets the requirements DSTU ISO 9001: 2015.
Company success directly depends on quality products and provided services. Constantly improving, we increase the value of brand, and thereby reach new heights in world market.
ISO 9001 benefits:
- our regular customers and consumers can be confident that our products will meet their requirements and expectations;
- potential customers can be assured of our organization as reliable partner and our service meets international standards, that is confirmed by relevant document;
- Pack-Trade employees are confident in sustainability of employment, guaranteed opportunities for professional development, improving socio-psychological climate in organization, which positively affects the ability to work and performance incoordination.
FOP Tomchuk A.M. (Pack-Trade company) was founded in 2004. Today it is one of the largest importers of packaging materials and equipment, warehouse, construction, agricultural and other special machinery in Ukraine.
For a long period of time, was carried out hard work to implement quality management system based on modern standards. Results of this work were evaluated during the audit. Certification ISO 9001 – is a guaranty of quality products and offered services to our customers and partners.
Presence of certificate ensures high company competitiveness, and indicates an increased level of reliability and compliance of goods with international standards. We care about the quality of our products and service, and want each customer to be satisfied with cooperation.
Quality Management System Certificate is important event in development of our company. This system helps in organizing the functions of enterprise in accordance with international standards, ensuring observation of customers' requirements.