Number: 116
Compatibility:

Description:
A.TOM PUMP 290 stations are designed for pumping of liquid manure, liquid effluents from storage facilities and its subsequent application to the fields as organic fertilizers.
Main characteristics
Pump diesel station - A.TOM PUMP 290 (C/N 4.231)
Technical features of Cornell 4NHTB pump

Min. flow

77.18
m3/h

Max. flow

454
m3/h

Discharge size

101.6
mm

Suction pipe size

127
mm

Solids handling

7.62
cm

Max. speed

2000
rpm

Shut-off head

143.3
m

BEP head

119.8
m

BEP flow

422.901
m3/h

BEP percent

70
%
Technical features of DOOSAN engine
Power
290 (213 kW) / 2200

l.s. / rpm

.

Max. torque

1095 (111,7) / 1600

Nm (kg.m)/ rpm

Engine type

Linear 4 cycles, water cooling (radiator)

Number of cylinders

6
pcs.

Engine capacity

8
l.

Fuel type

Diesel

Oil tank capacity

15
l.
Overall dimensions of the station
Length
4,9
m.
Height
2,4
m.
Width
2,3
m.
More information
Pump-diesel station A.TOM PUMP 290
1. Durability and reliability
The body of the pump-diesel station is made of high-quality S355 J2 structural steel and has a powder polymer coating, which is resistant to different factors in an aggressive environment.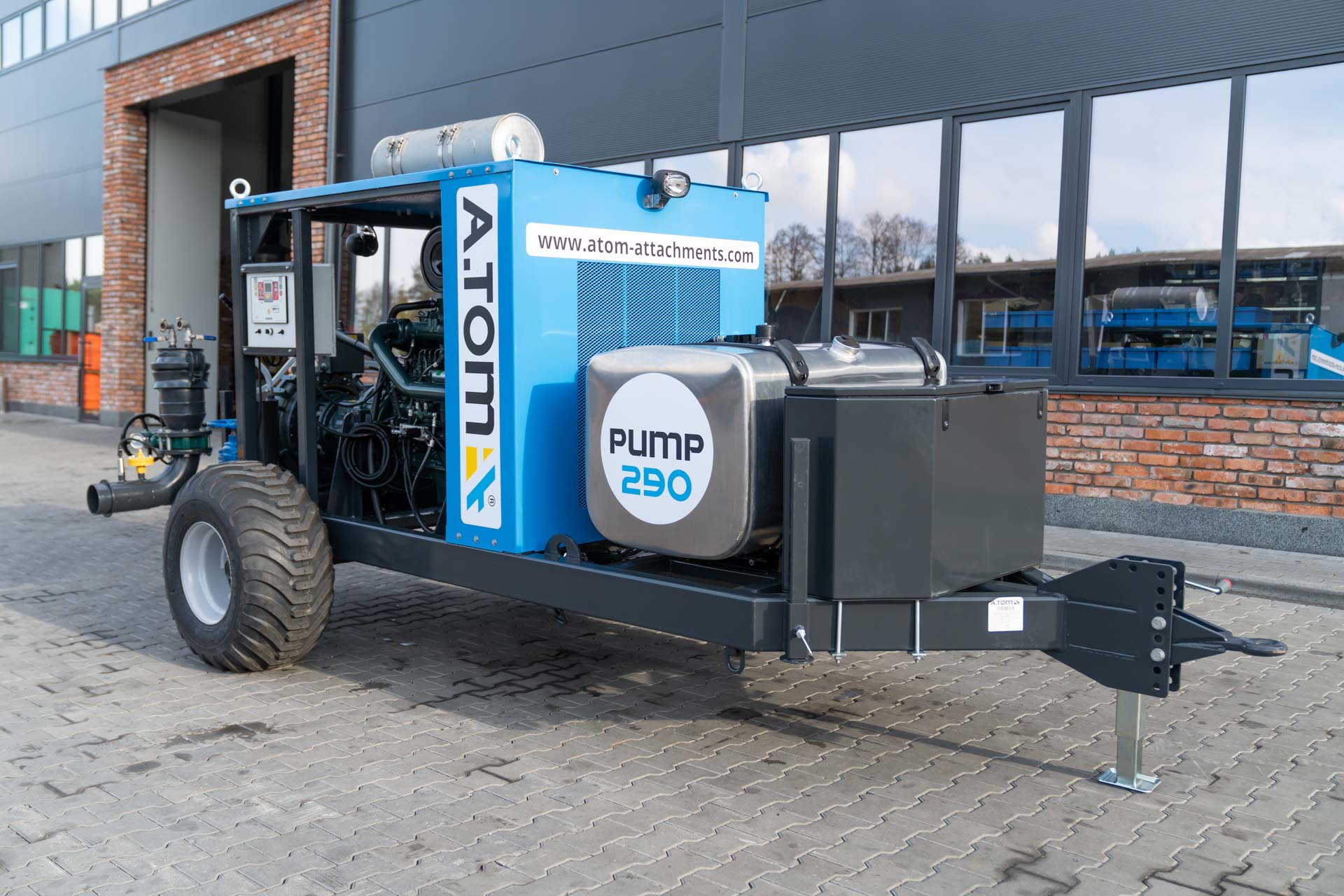 2. "ADR"/"TVZ" axis (Italy)
Axles of the Italian manufacturer "ADR"/"TVZ" are tested by intensive operation and guarantee stability and ability to move the pump diesel station in off-road conditions. A.TOM PUMP 290 pump-diesel station has transport wheels for moving between manure storage facilities, as well as between farms. For reliability of transportation, the equipment has reinforced hubs and large wheels.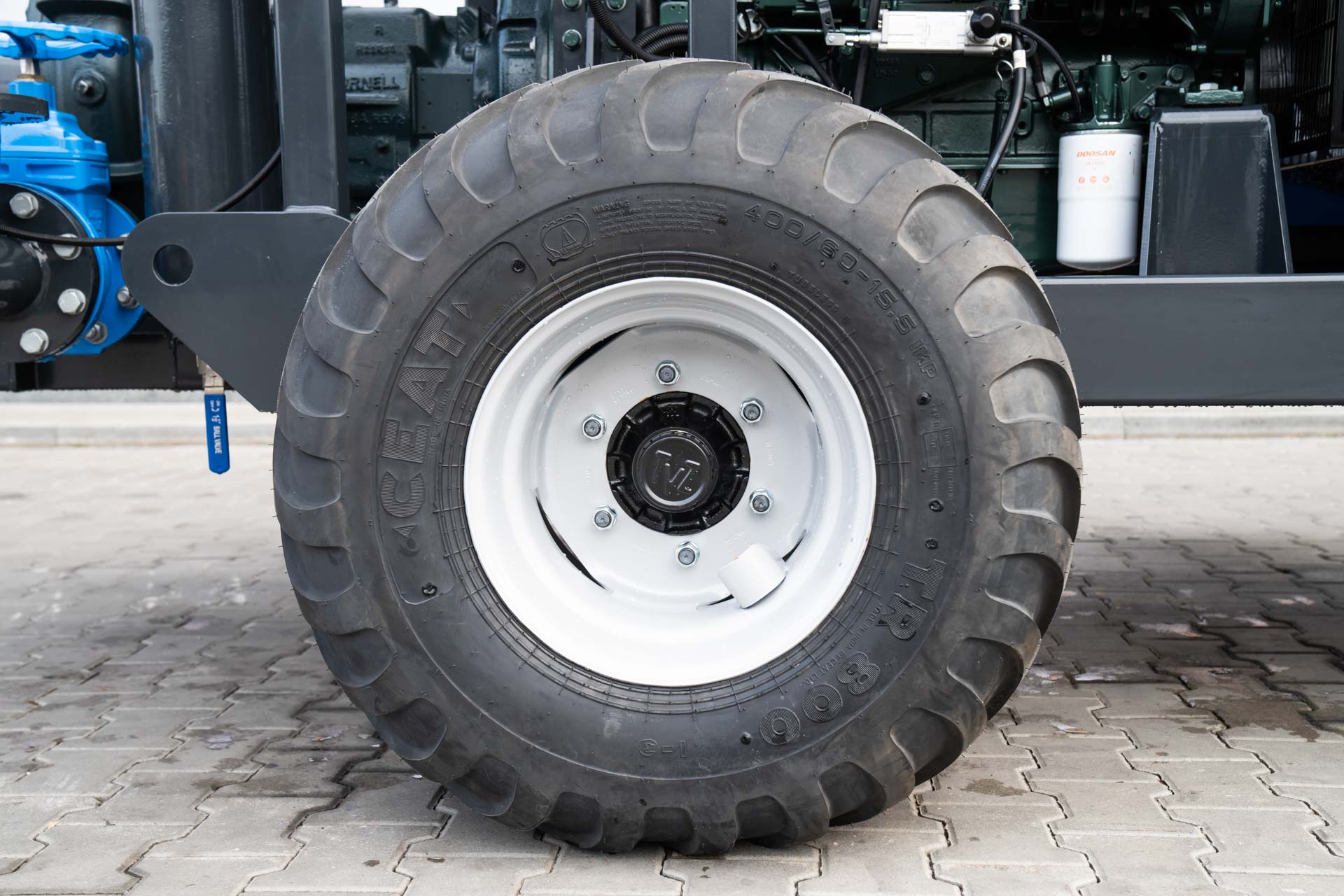 3. Mounting loops
Mounting loops in the station body are designed for safe and easy loading and unloading with the help of cranes.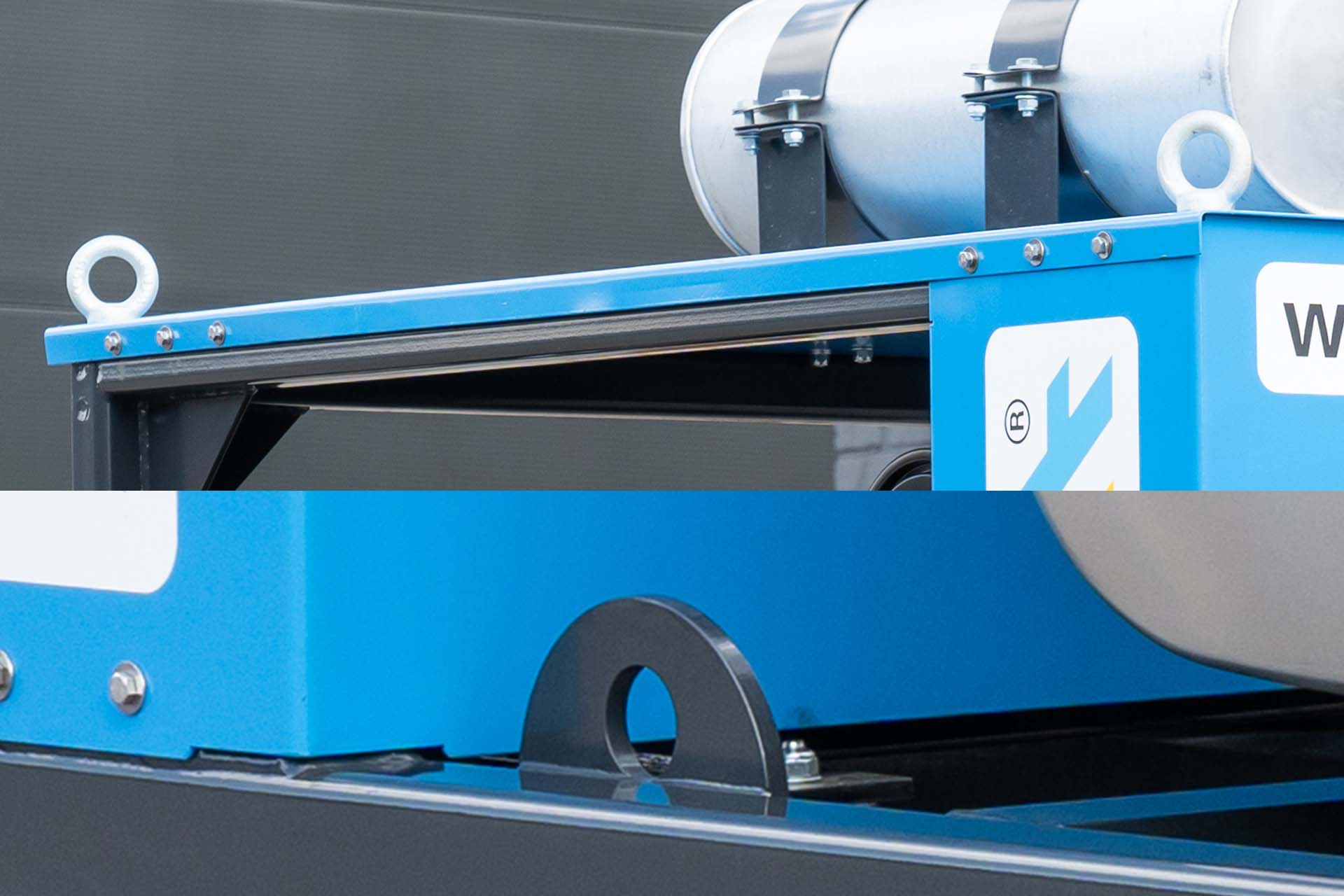 4. Stabilizing legs
Metal stabilizing legs could be lowered and raised. In the unfolded state, they are fixed with a lock pin in a vertical position. They provide raising the station and fixing it at a certain height, as well as fixing it in a safe position during the operation.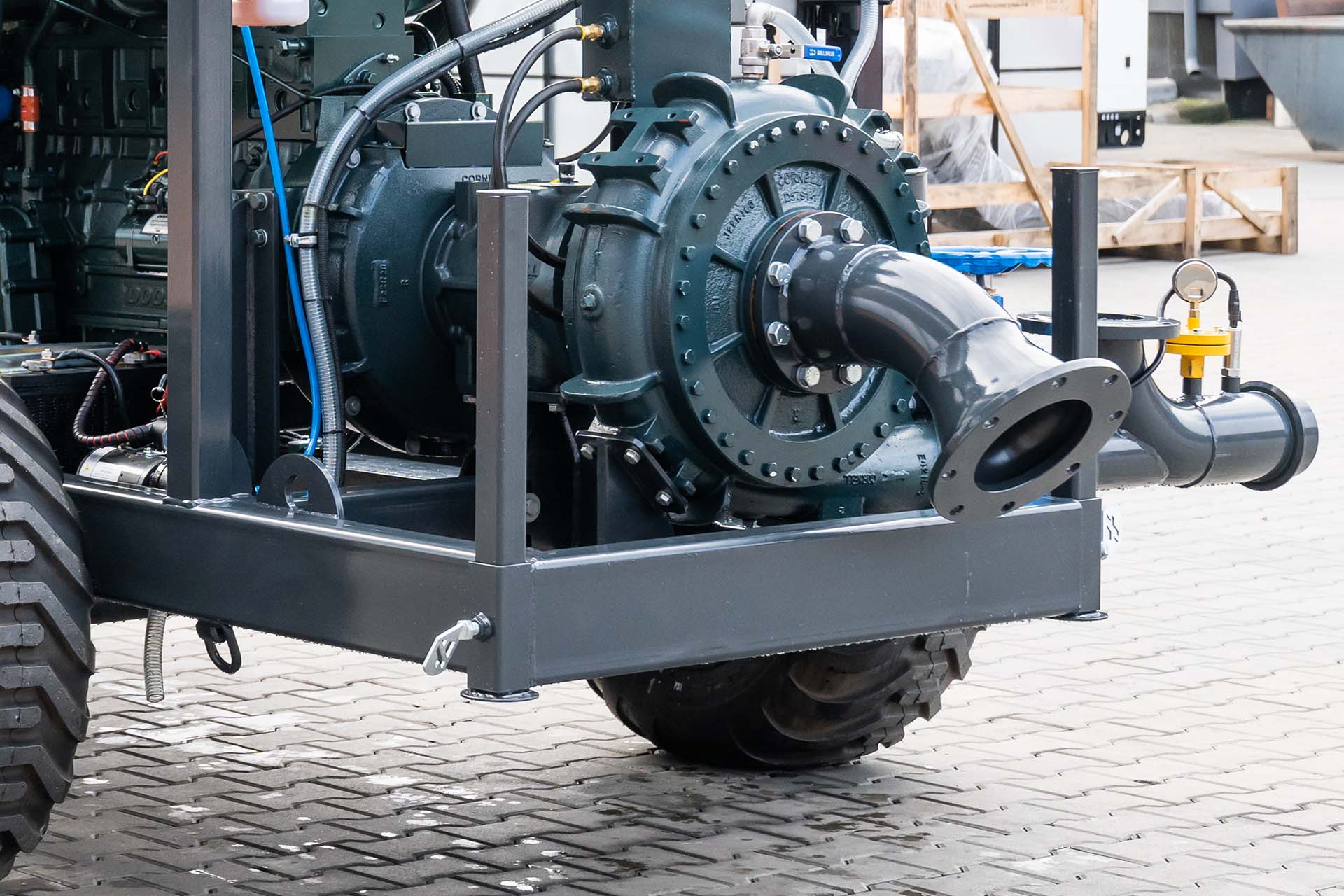 5. "Simol" Jack (Italy)
The reliable and durable Italian-made jack is designed for the convenient and safe operation of the station. Together with the legs, it is used to raise and fix the station at a certain height for connection to the tractor, as well as to fix the equipment after the work is completed.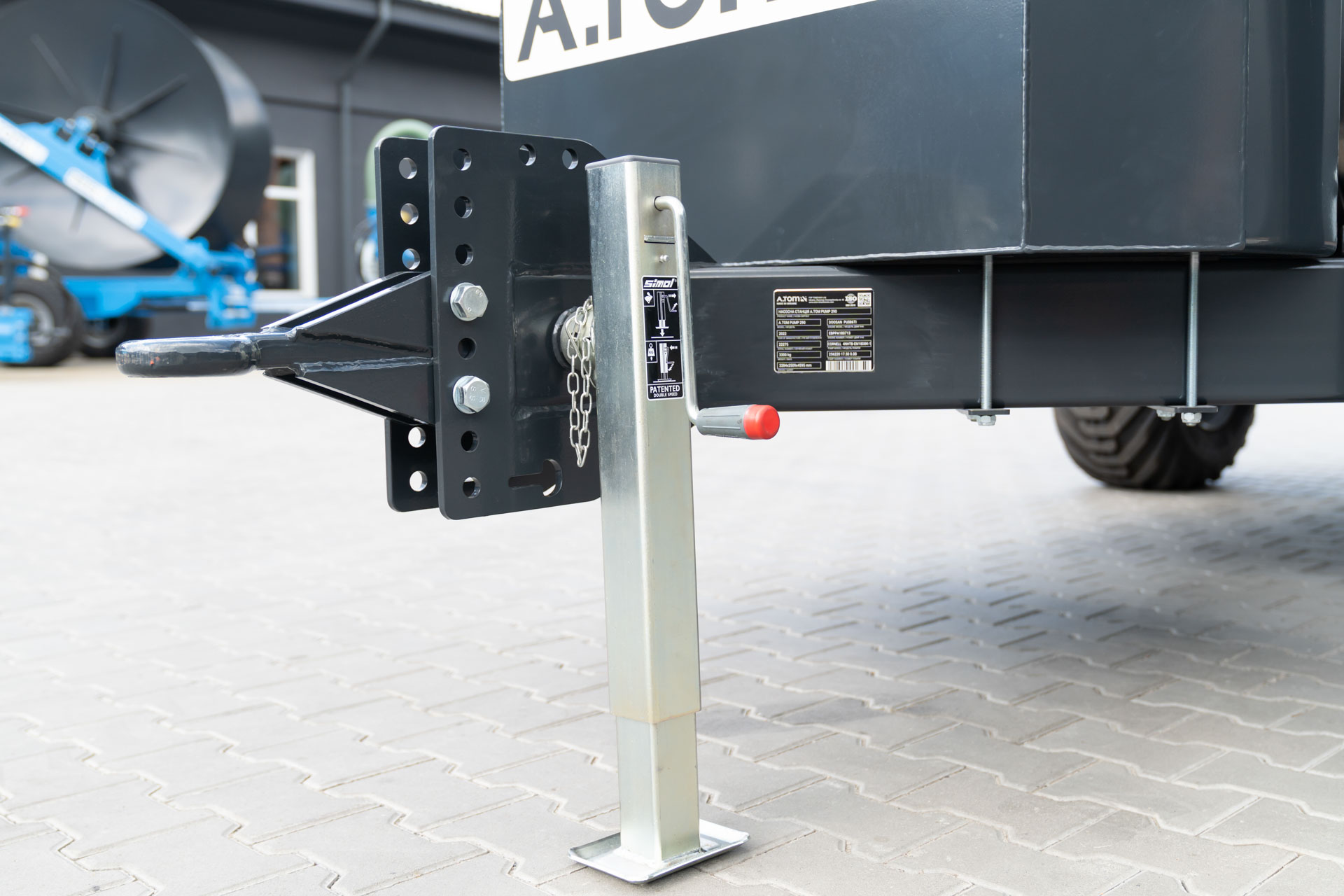 6. Tool box
In the front frame of the station, there is a convenient box for tools and spare parts.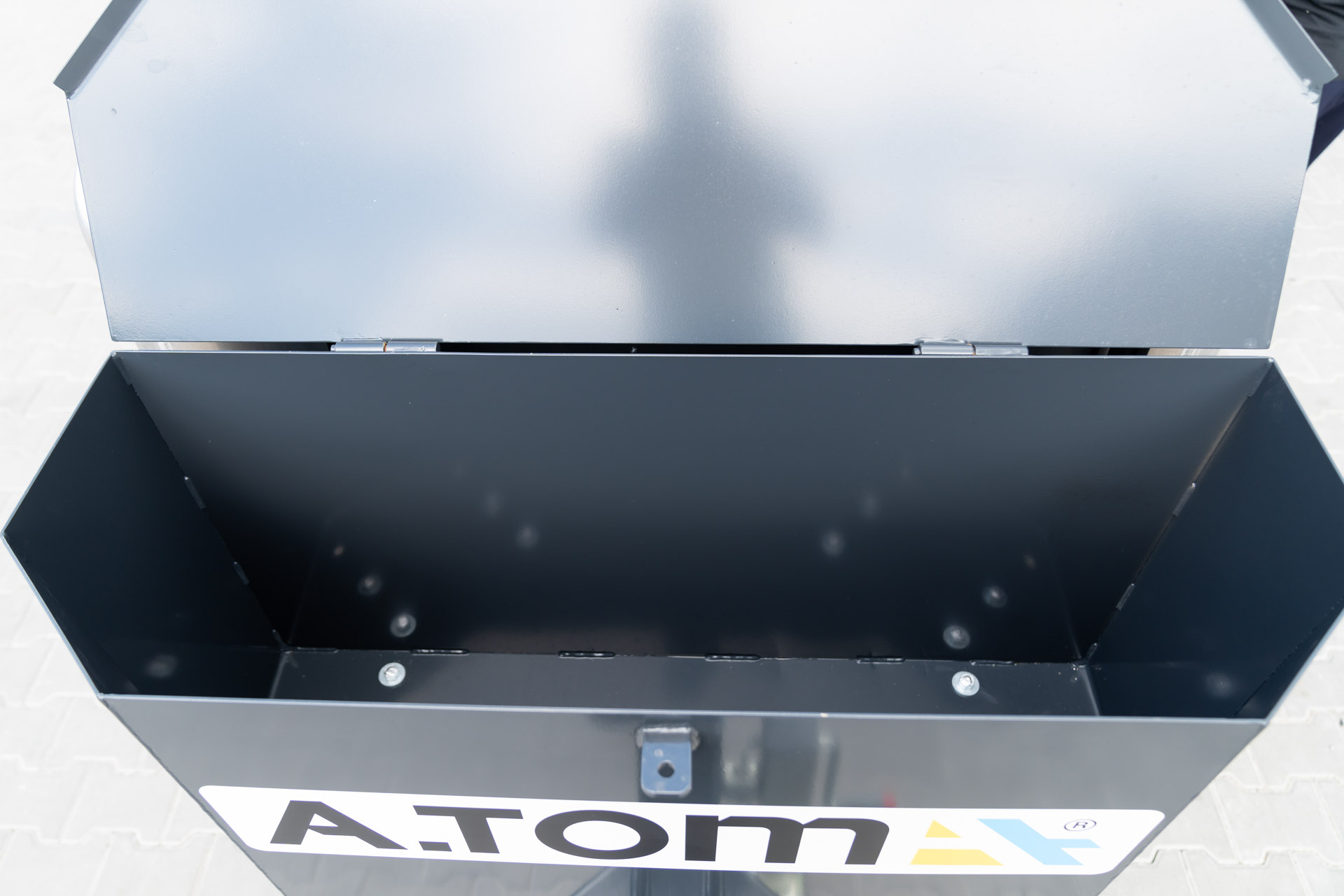 7. "Depo Otomotiv" fuel tank (Turkey)
A fuel tank made of galvanized steel with a standard volume of 560 liters from the Turkish manufacturer "Depo Otomotiv".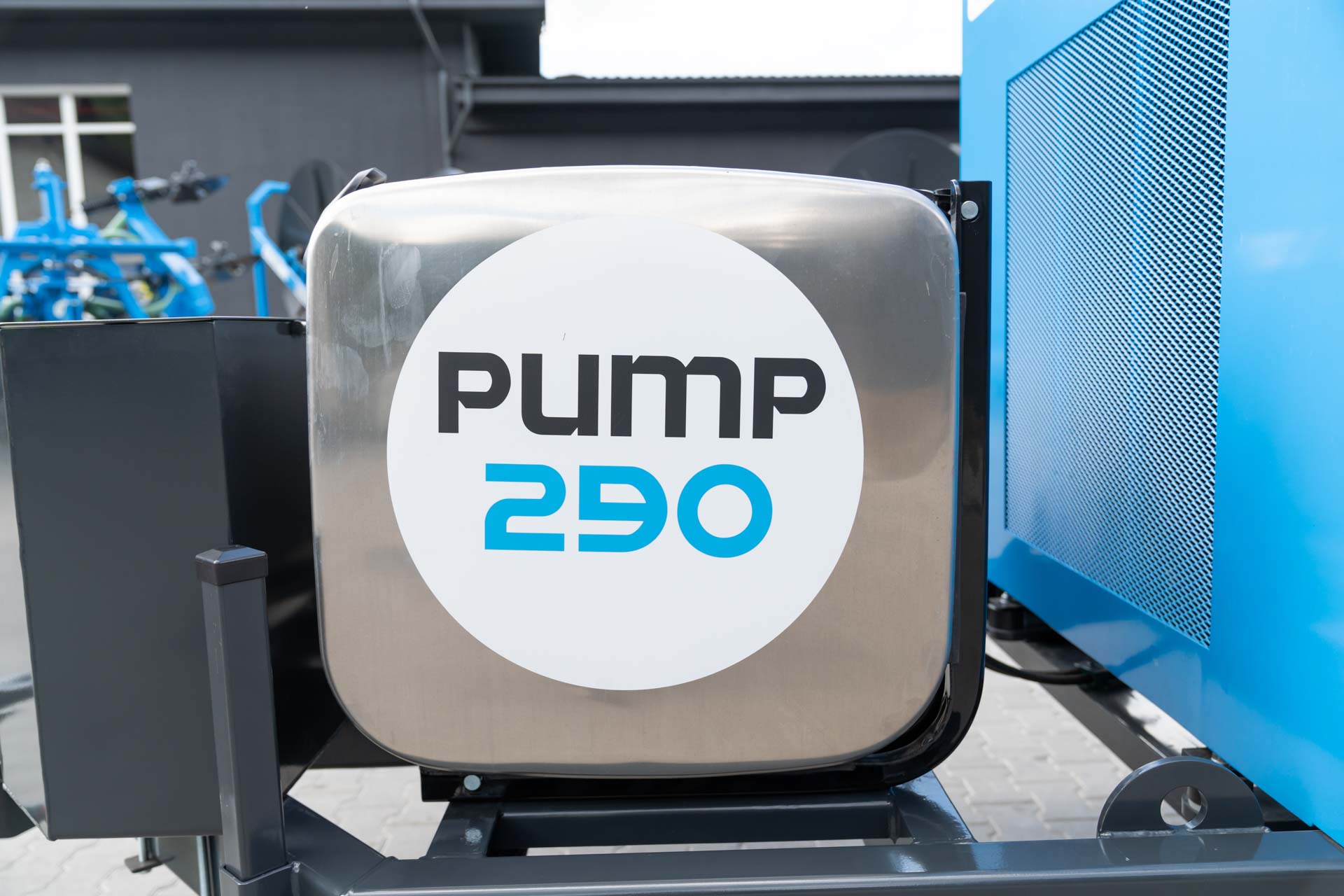 8. "Iveco" muffler (Italy)
In the upper part of the station, there is a galvanized muffler of Italian production.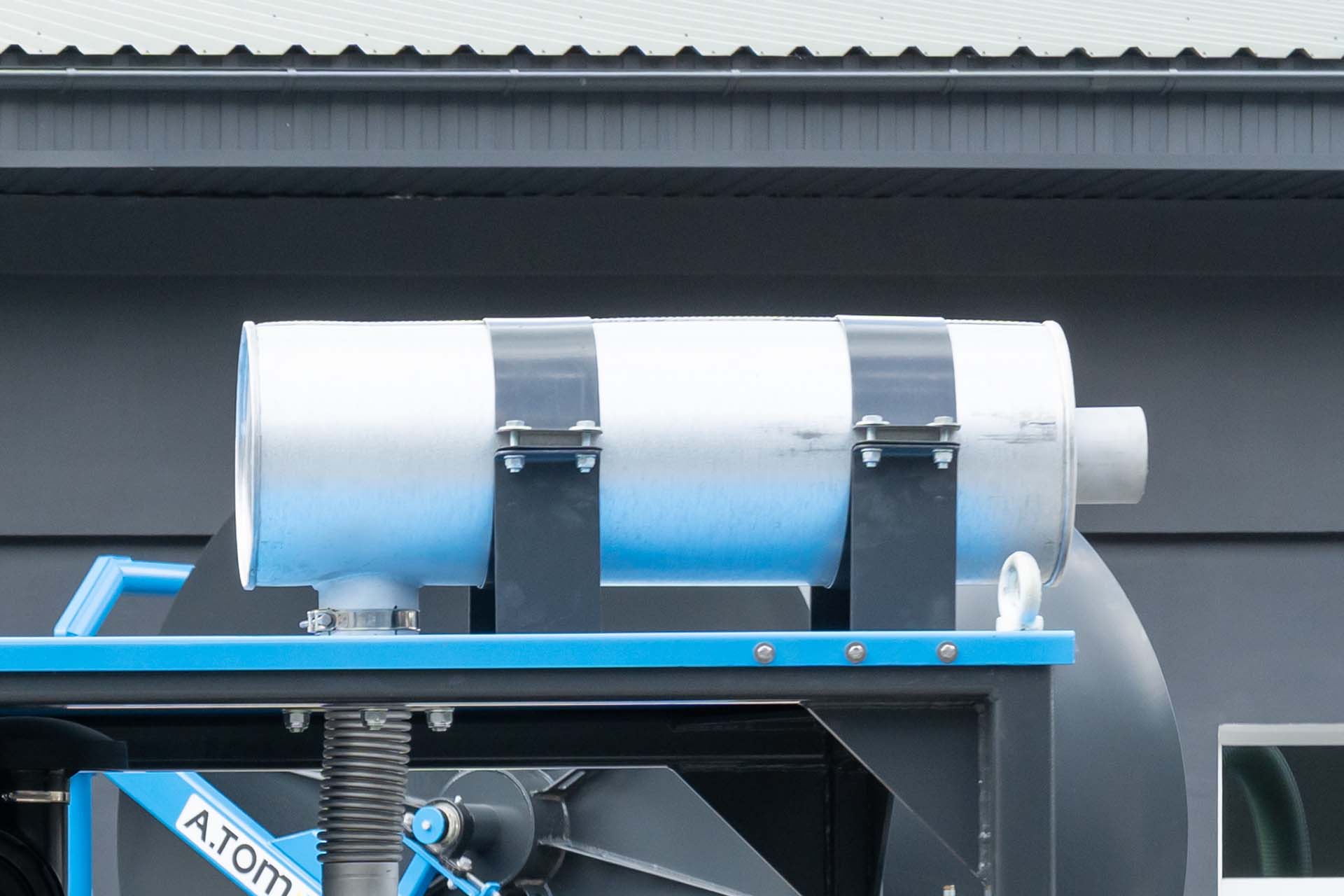 9. Lighting equipment
On the roof of the station, there are two headlights on telescopic racks for the convenient work at the nighttime.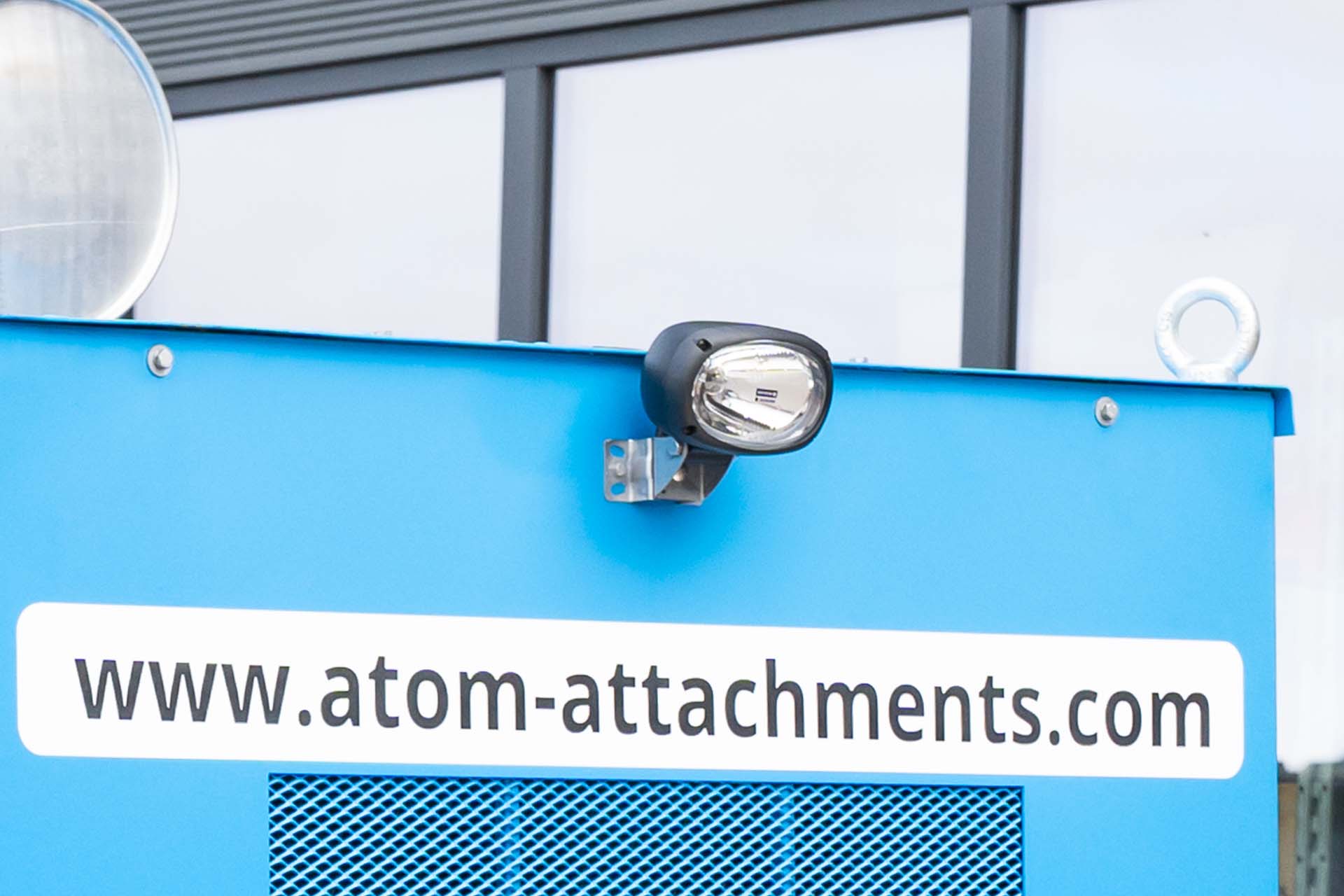 10. "Cornell" pump (USA)
Heavy-duty liquid manure pumps from the American manufacturer Cornell Pumps Company are made of high-quality steel and have solid mechanical end seals for working in abrasive environments. The pumps are equipped with the Run-Dry™ system — for operation in dry mode, as well as the patented CYCLOSEAL® technology, which protects the end seal from foreign particles.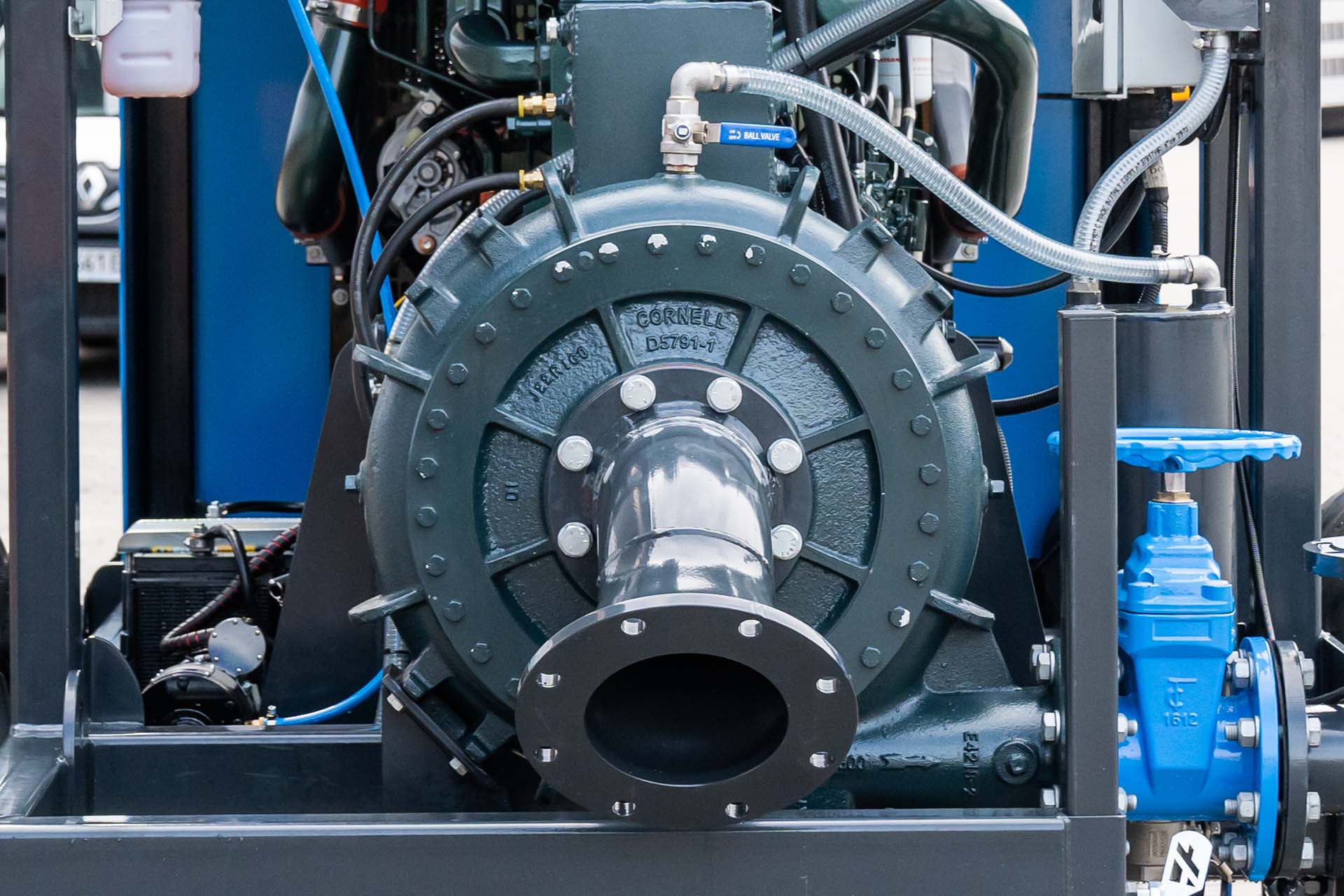 11. "Bauer" coupling (Austria)
The 8" (203 mm) inlet and 6" (154 mm) outlet couplings made of galvanized steel ensure tightness even with dirty connections.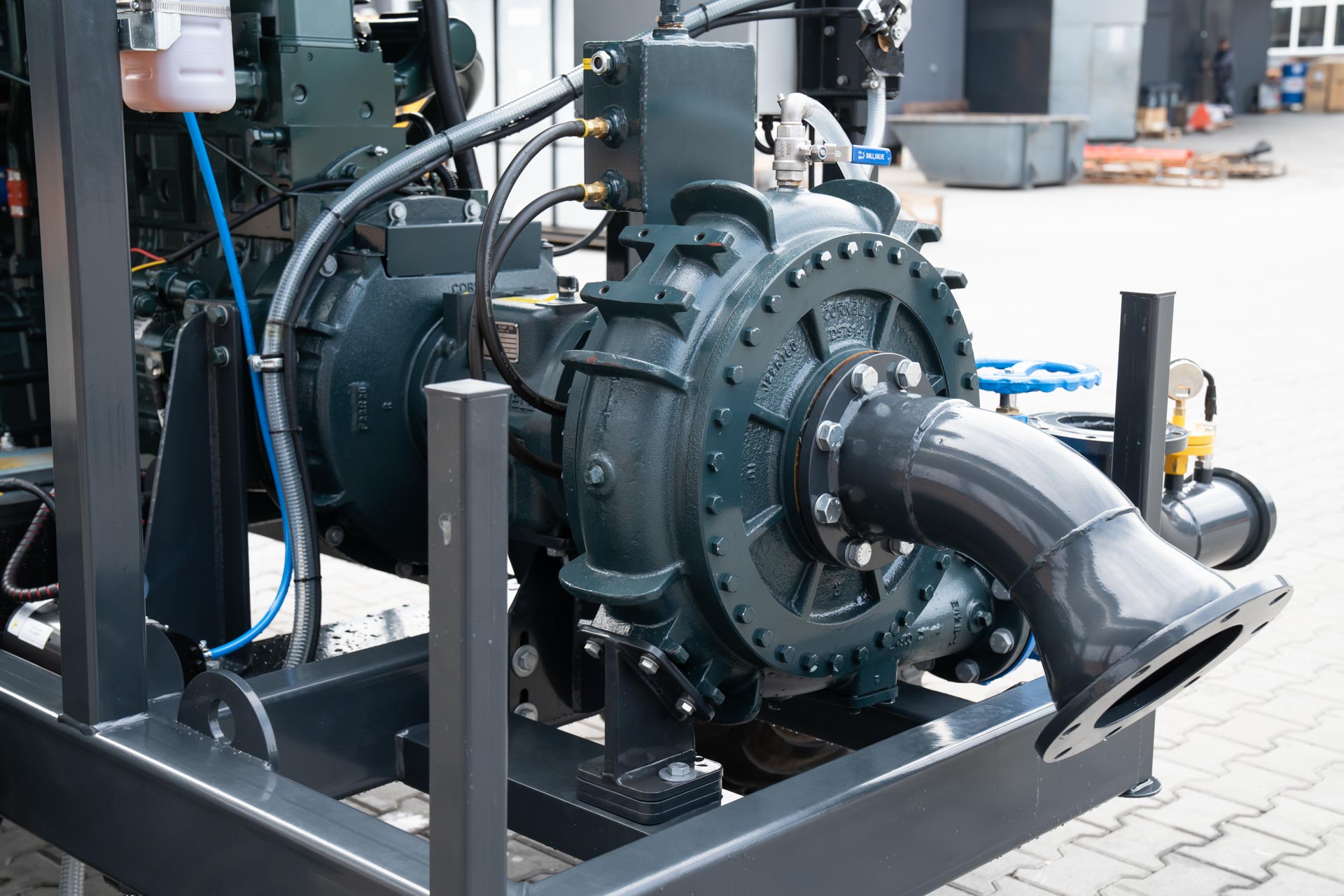 12. Expansion tank
At startup of the station the pump is primed with the oil in the expansion tank, the oil seals are temporarily lubricated until the manure or other pumped liquid reaches the pump.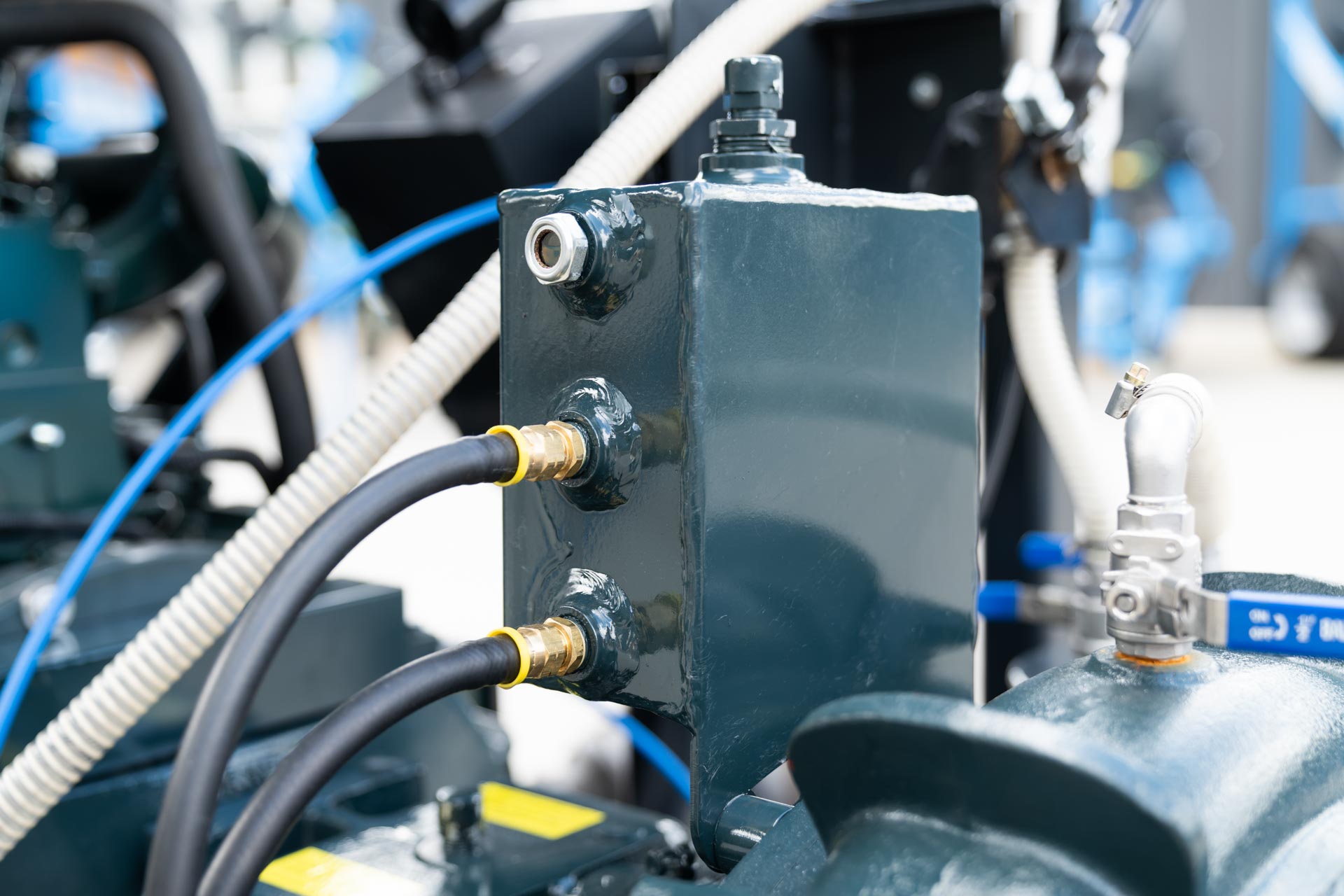 13. Diesel engine "DOOSAN" (South Korea)
Productive and reliable PU086TI engine with a capacity of 213 kW — 290 hp. (at 2200 rpm) ensures continuous operation of the station.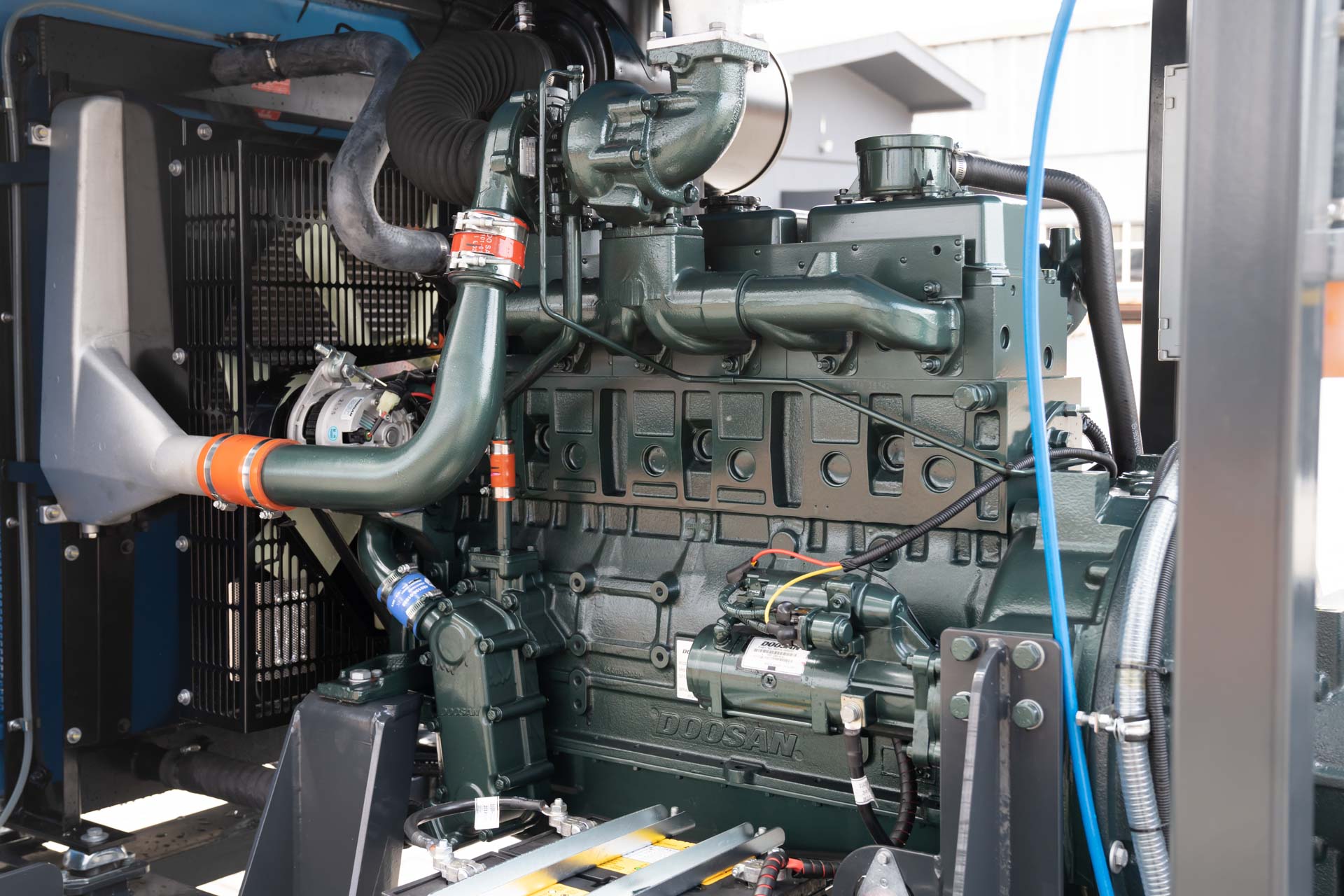 Engine accessories and filters
1. Turbine cooling radiator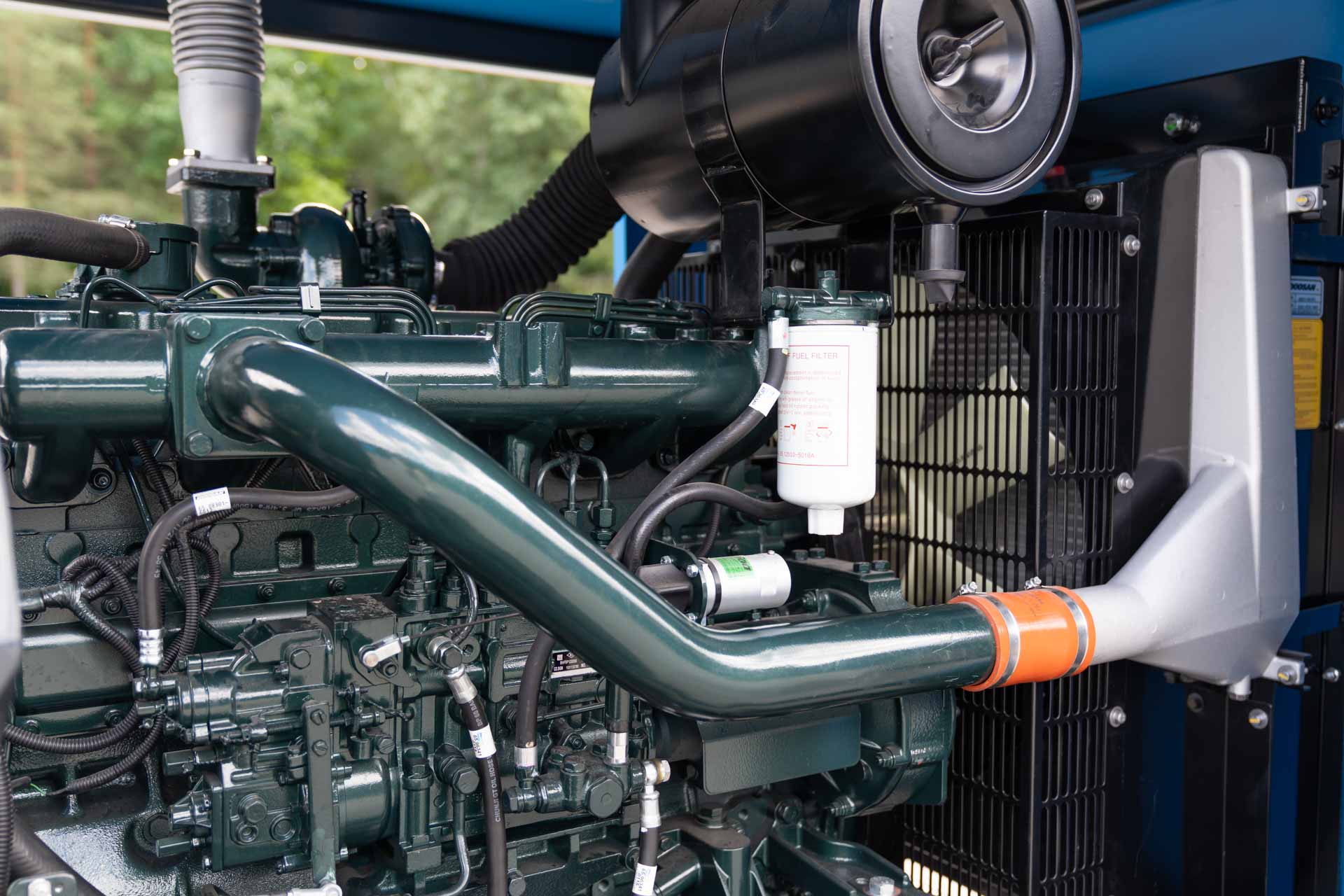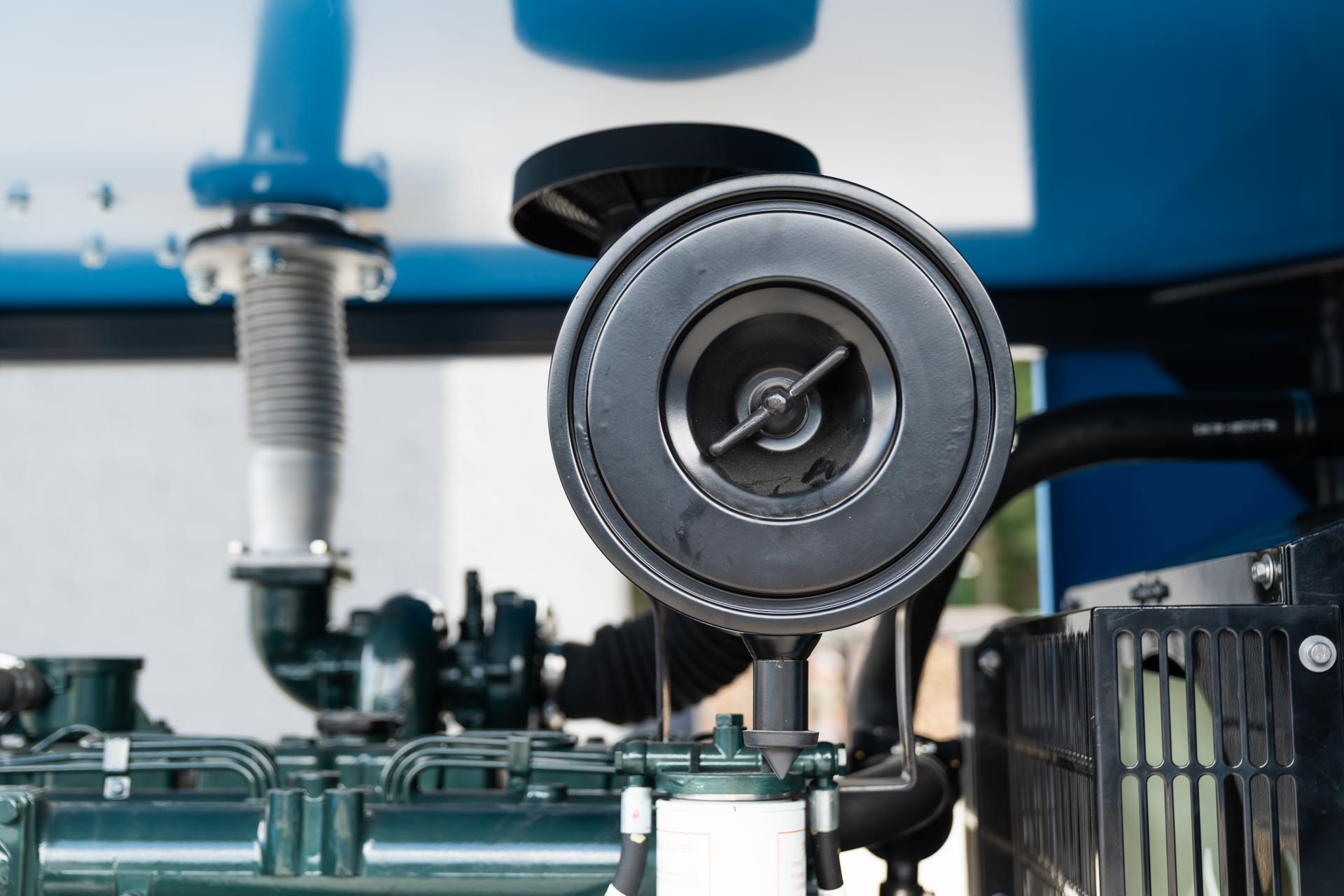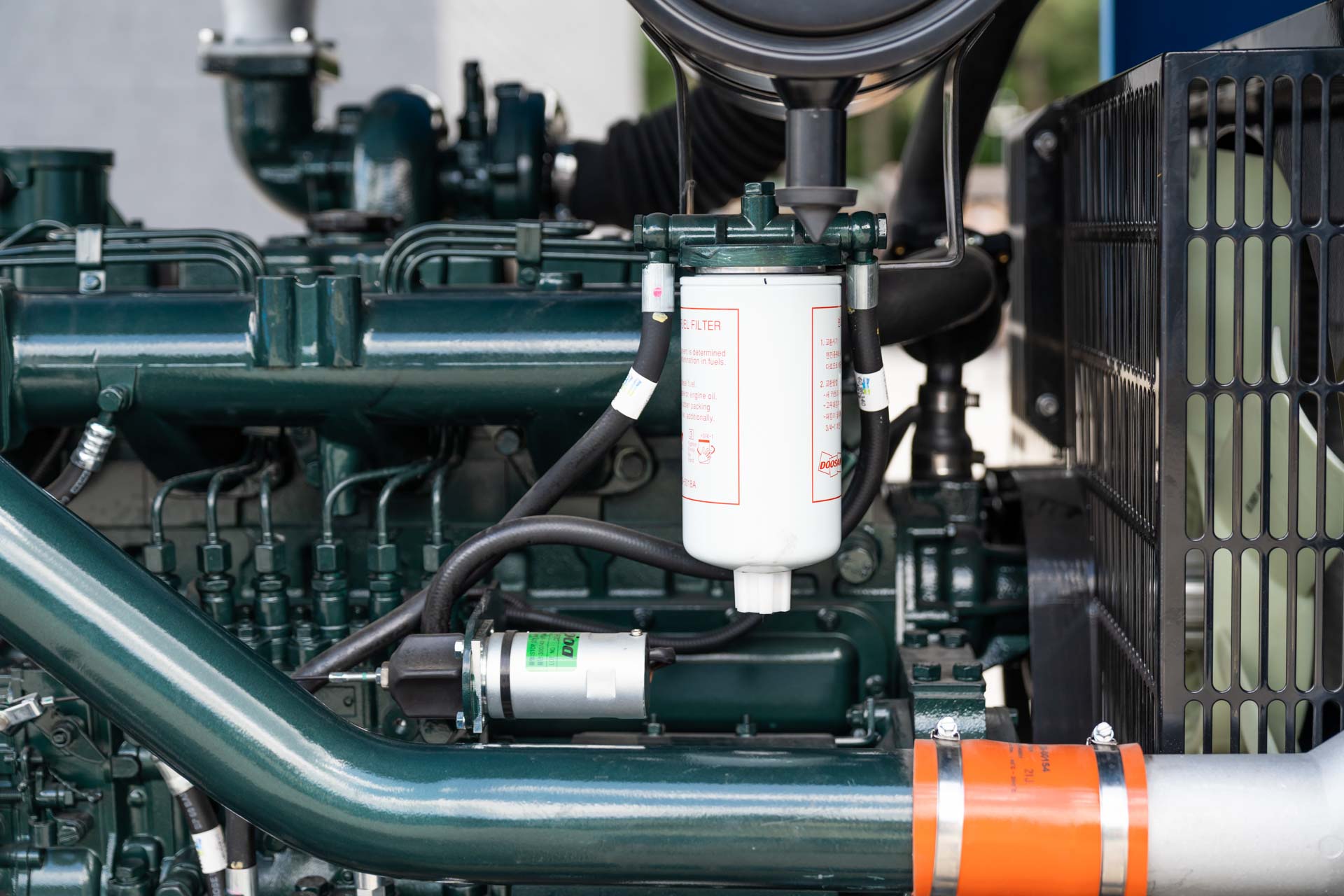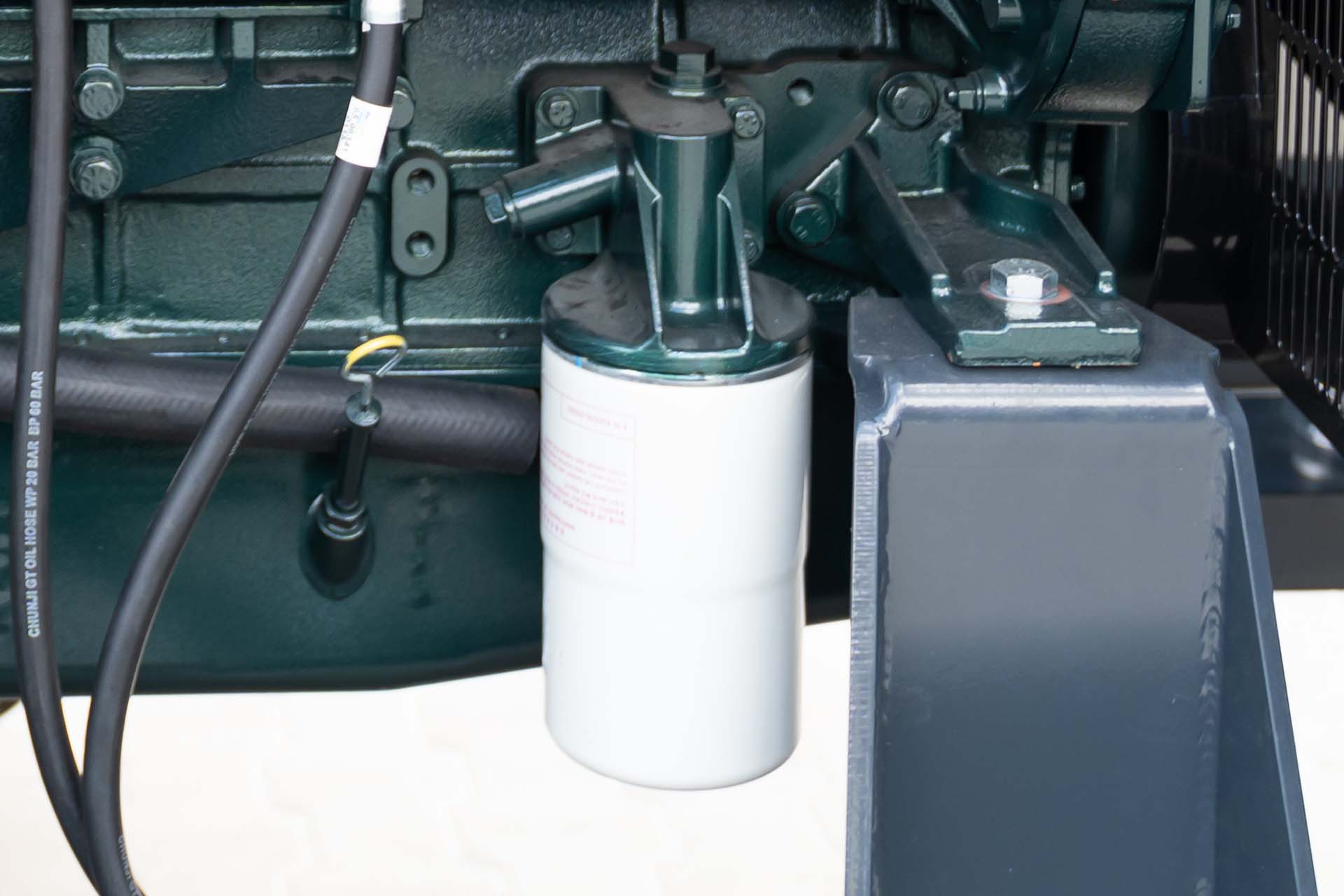 5. Battery (12 V) – 2 pcs.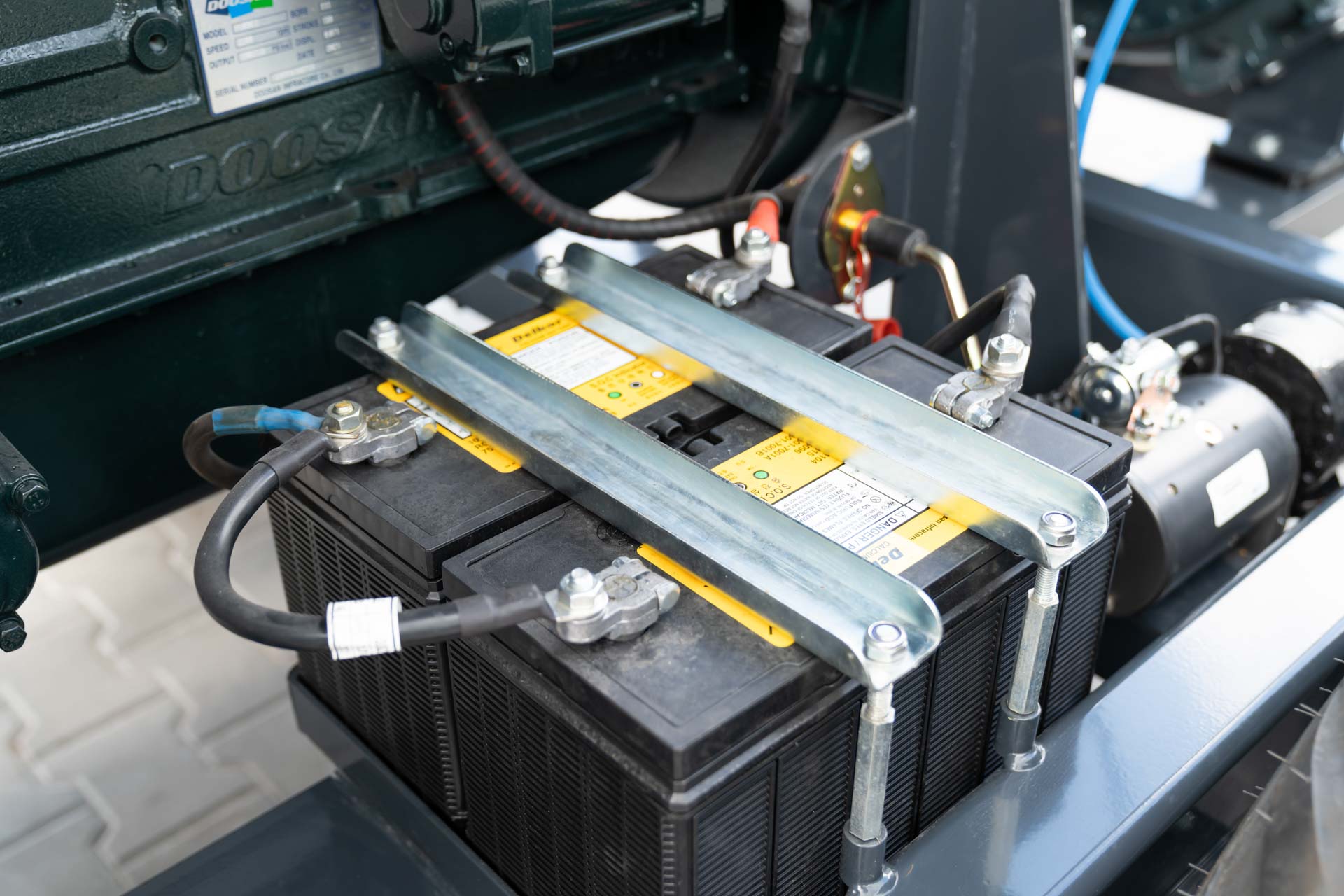 6. DOOSAN control panel
An emergency oil pressure sensor (displayed on the screen) signals an oil leak. The coolant temperature gauge sensor is displayed on the control panel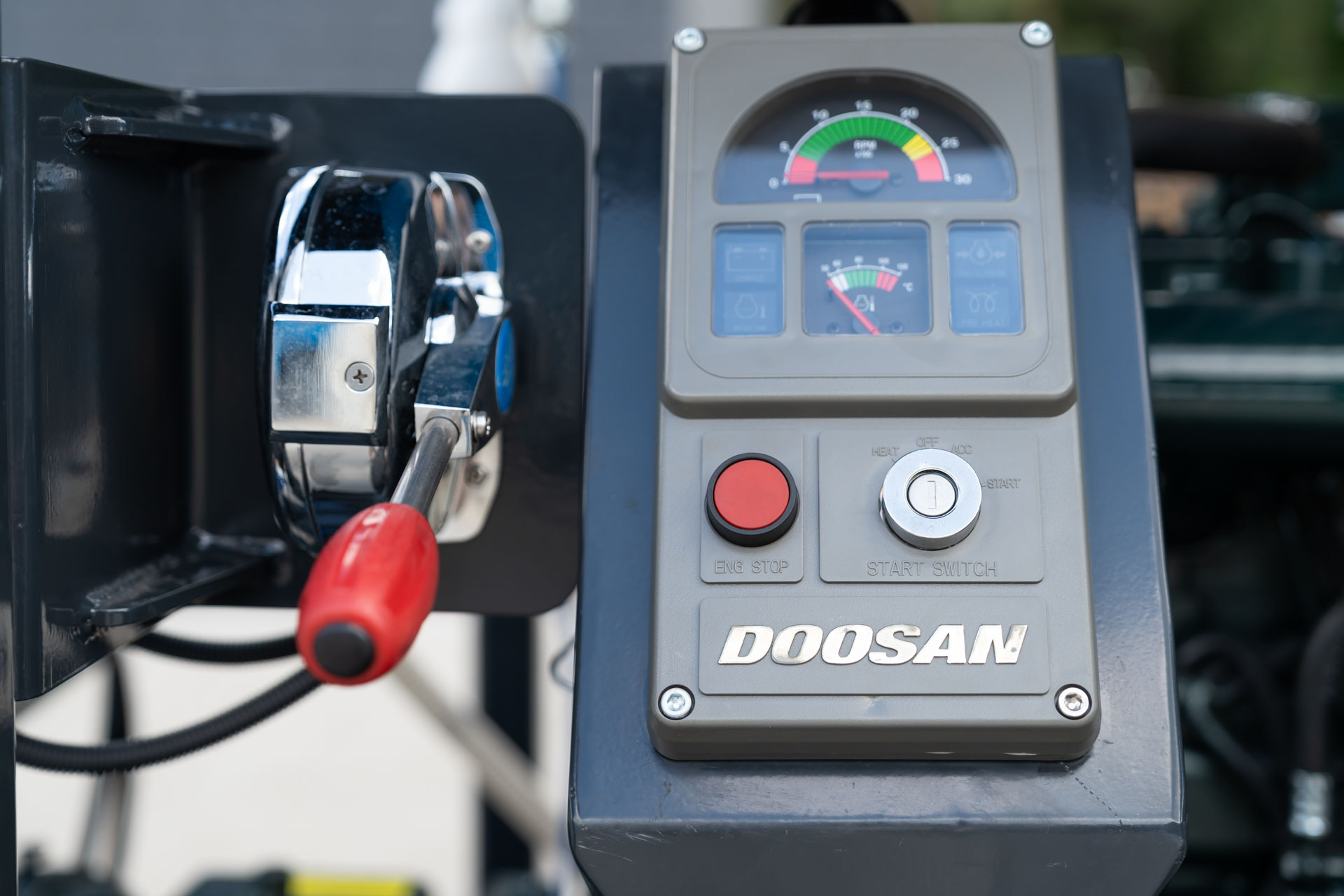 7. Manometer with membrane divider at the pump outlet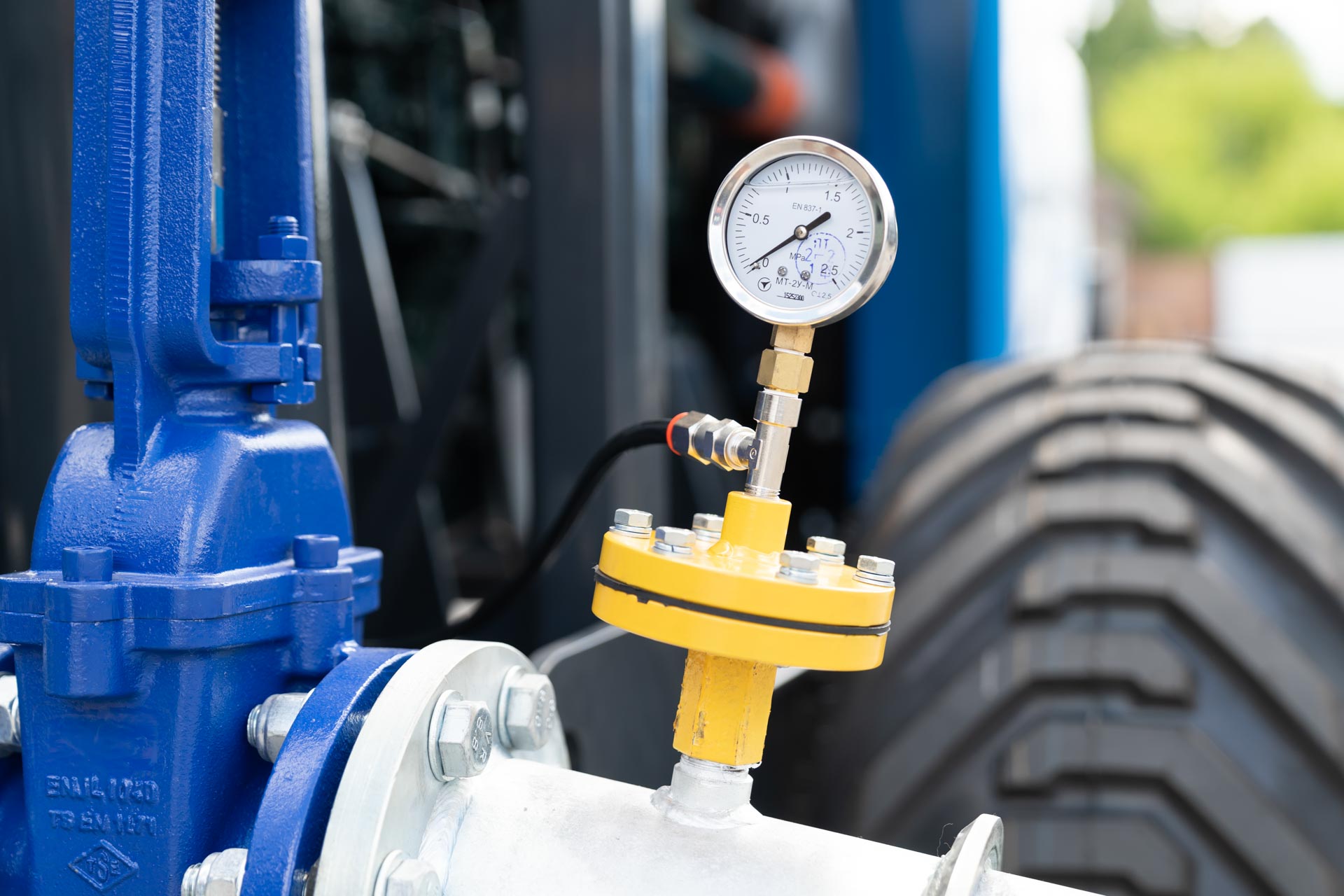 8. Pressure control relay at the pump outlet (cutoff)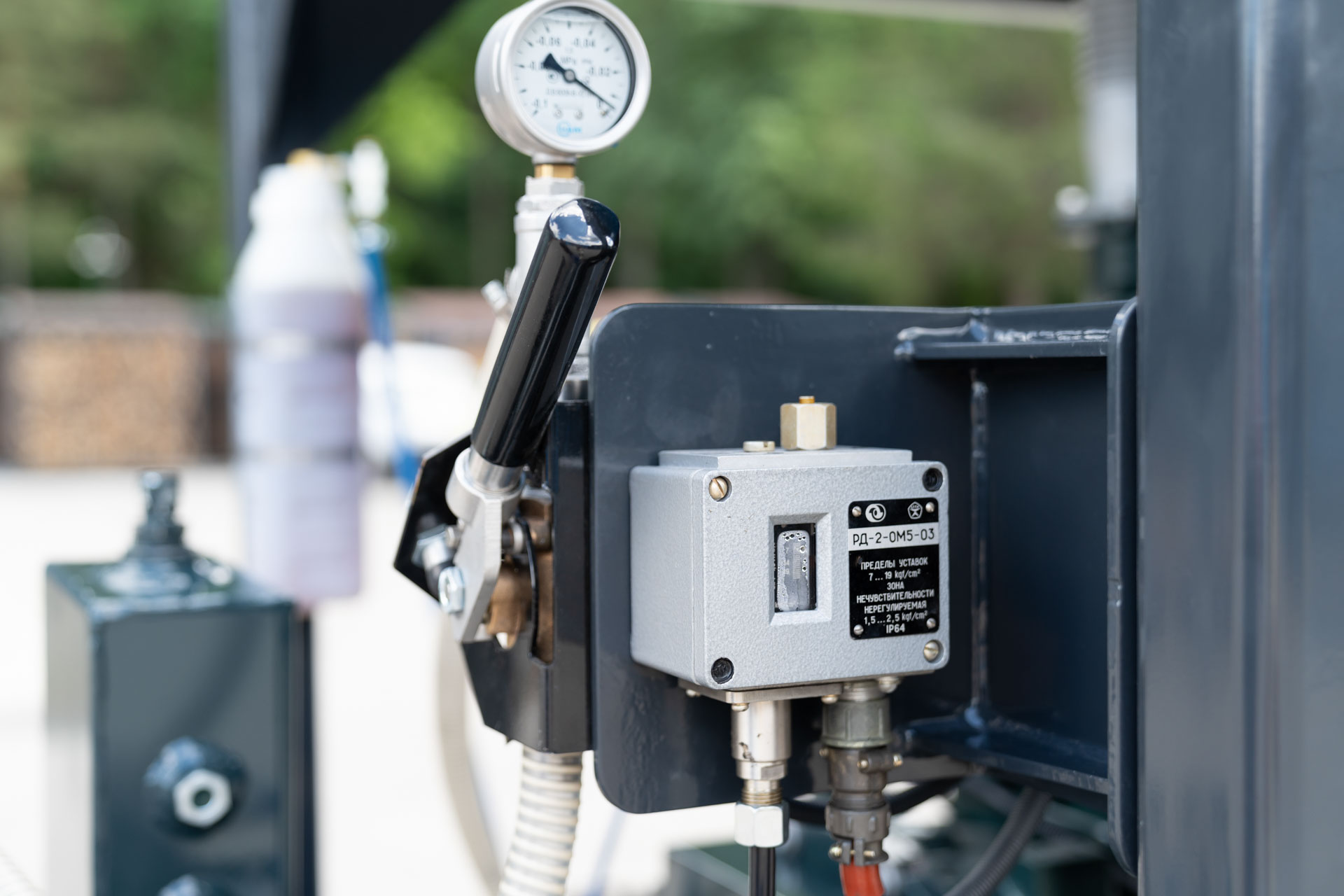 9. "Wallenstein" vacuum pump (Canada)
The vacuum pump (12 V) manufactured by the Canadian brand provides high pumping speed, suction height, as well as a large volume of air pumping.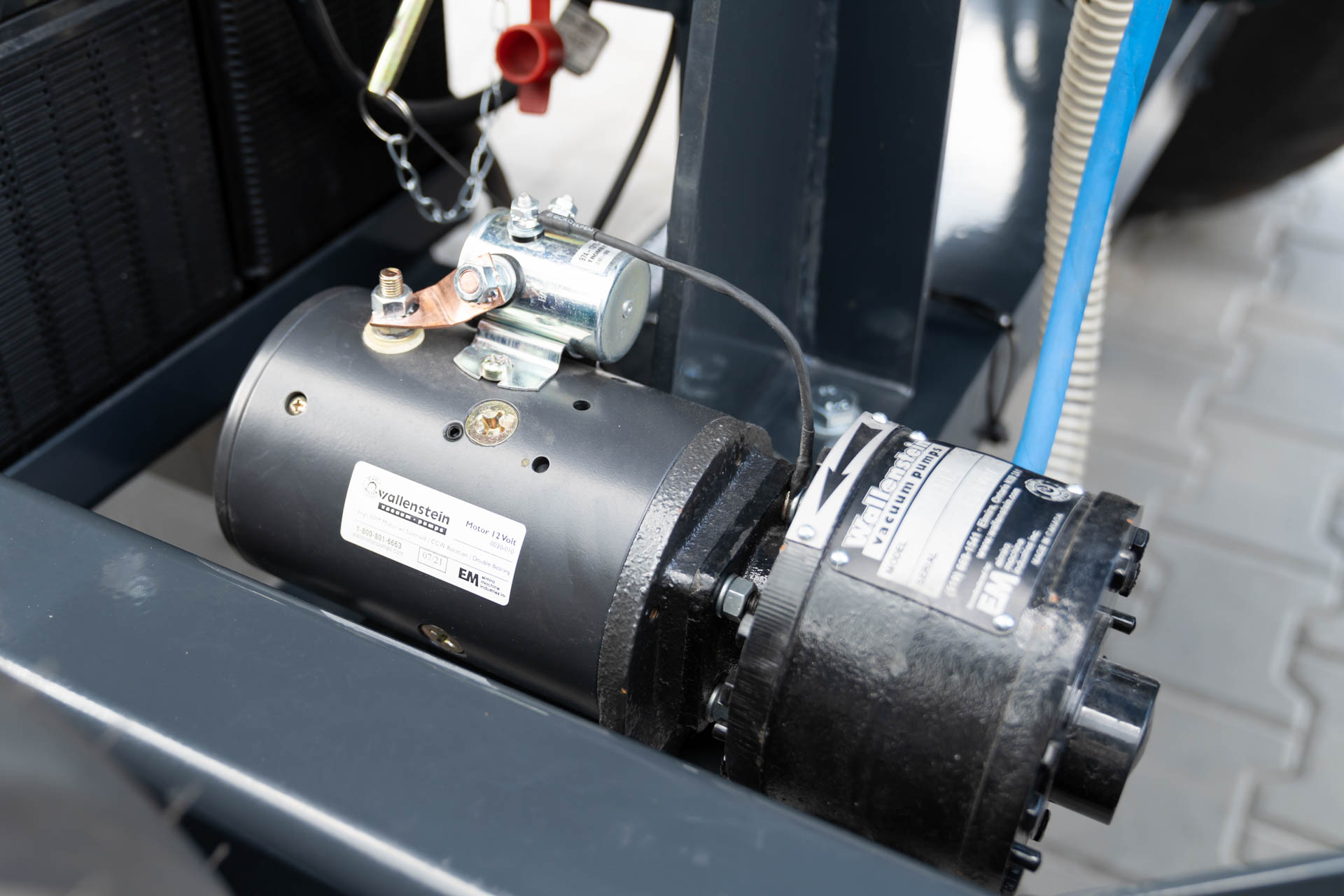 10. "Rovatti Pompe" manual vacuum pump (Italy)
Sometimes when pumping thick material from a significant depth, it may be necessary to use a manual vacuum pump. We use a manual vacuum pump from the manufacturer of specialized professional equipment - the Italian company "Rovatti Pompe".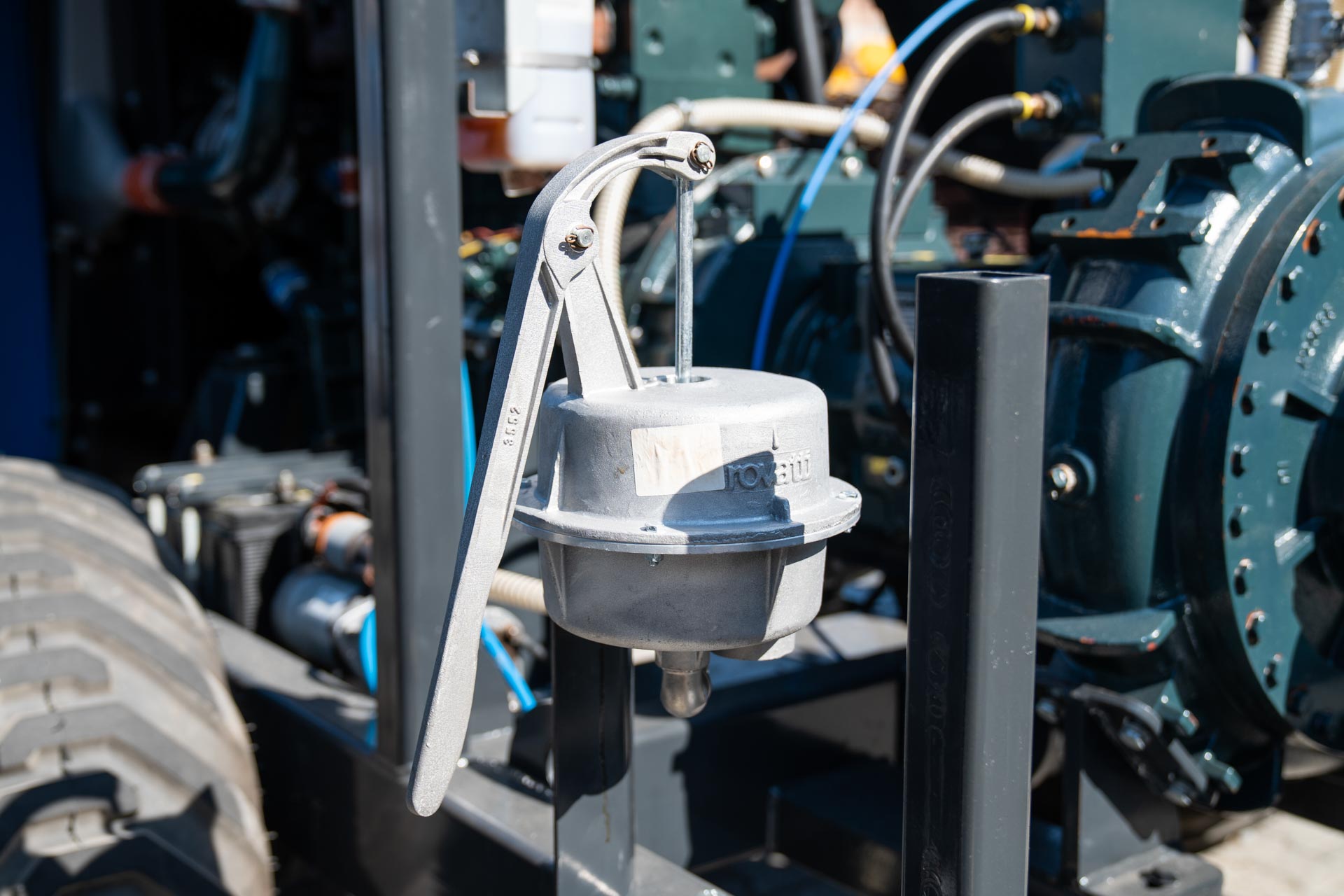 11. "Ecoval" locking valve (Turkey)
Regulation of the liquid flow and fixation of the material supplied in the pipeline is carried out with the help of a shut-off cast-iron flange valve with a rubber wedge from one of the best Turkish manufacturers of shut-off fittings, "Ecoval".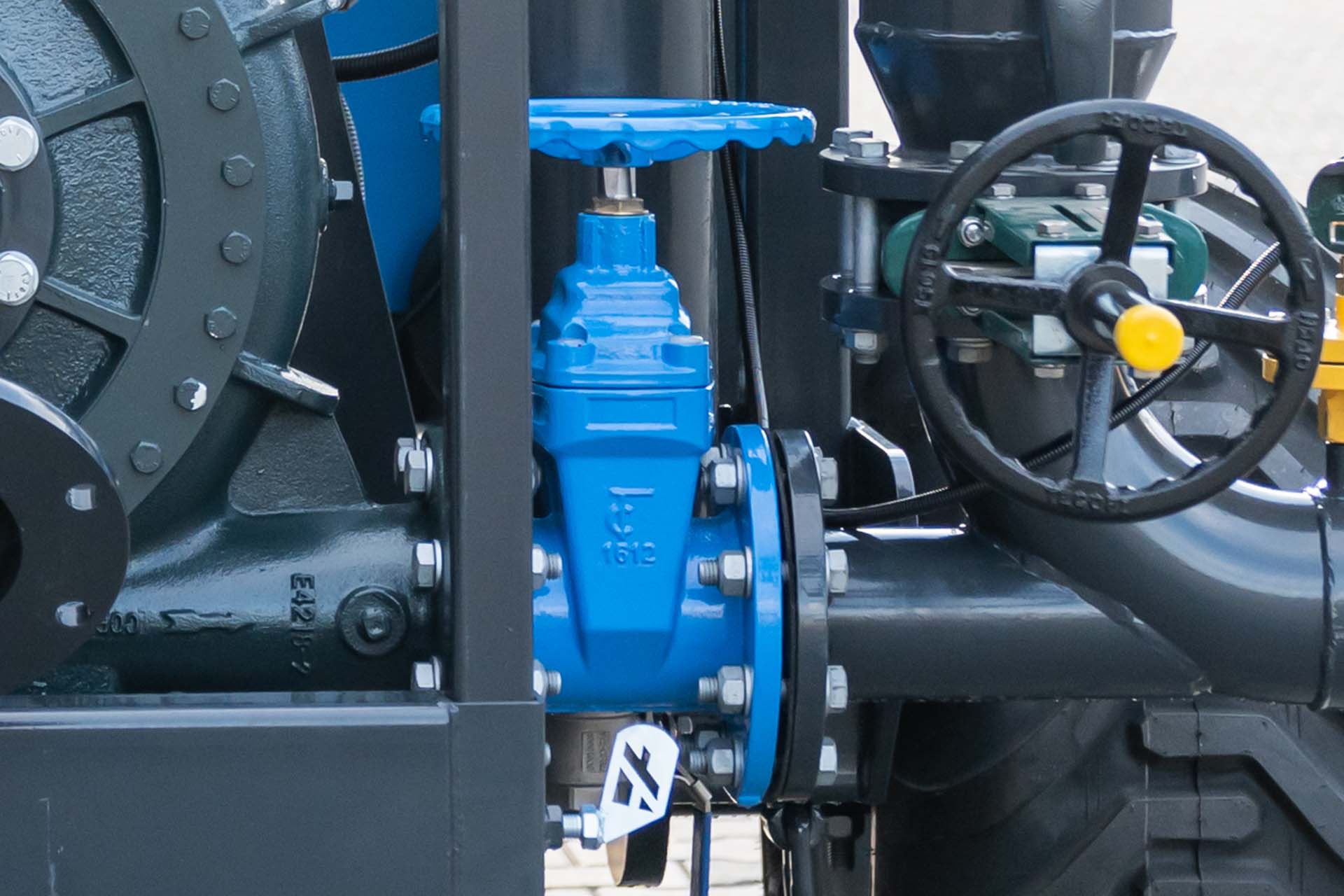 12. Measuring tank with lubricant with a capacity of 3 liters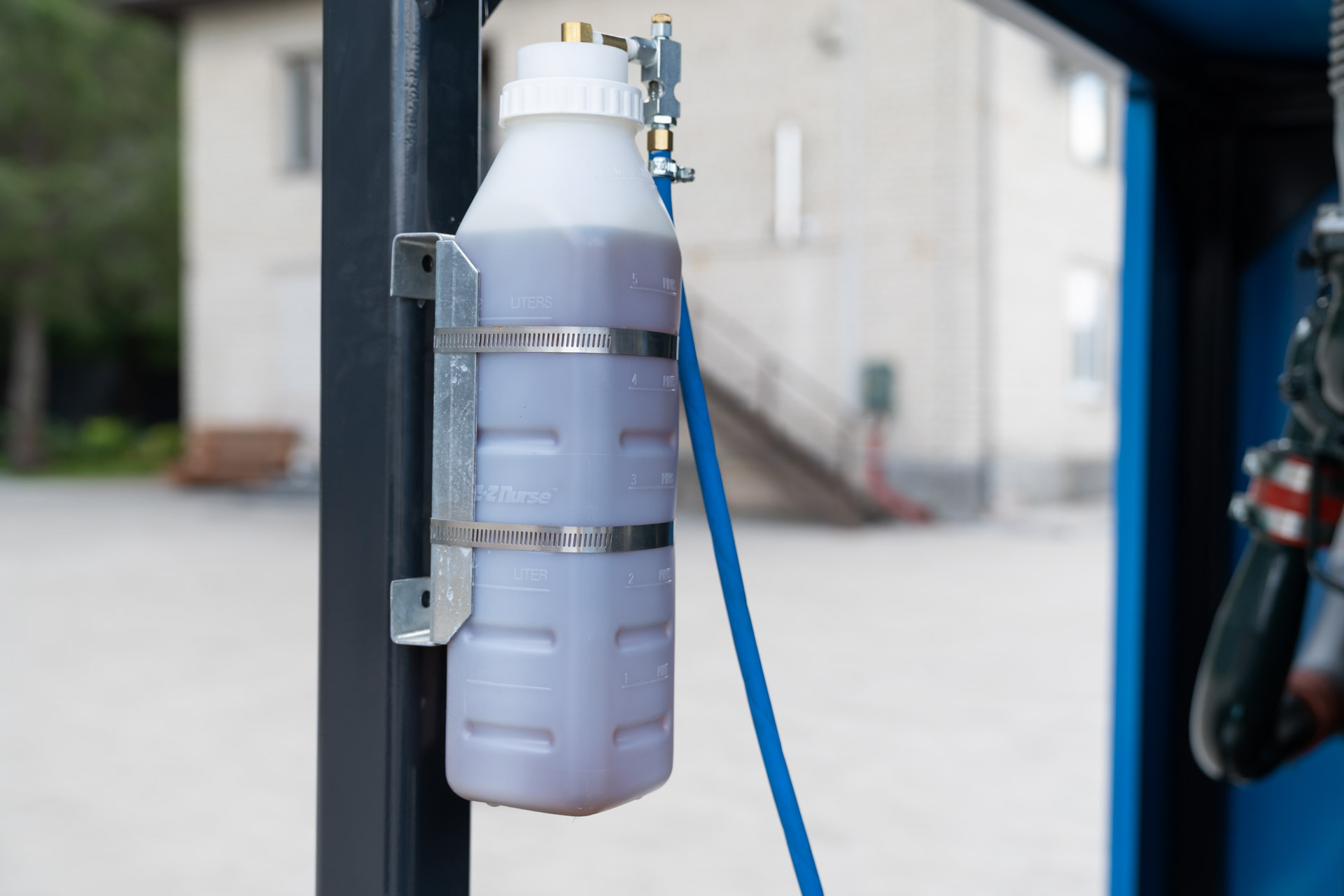 13. "Krohne" flow meter (Germany)
A high-performance flow electromagnetic flowmeter Optiflux 2300 (Krohne Germany) helps to record the consumption of the supplied material.